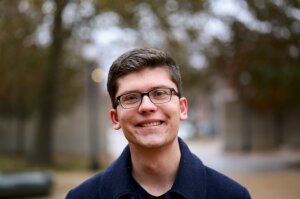 Contact Information
218 Astronomy
1002 W. Green Street
Urbana IL 61801
M/C 221
Biography
Colin is a graduate student in astronomy at the University of Illinois at Urbana-Champaign. He is currently a graduate fellow at the Center for AstroPhysical Surveys at the National Center for Supercomputing Applications (NCSA).
Research Interests
Active Galactic Nuclei (AGN)
Survey science & data science
Accretion physics
Machine learning applications in astronomy
Research Description
Colin is advised by Professor Xin Liu. Our goal is to understand how supermassive black holes formed and came to occupy nearly every massive galaxy in the Universe. Currently, I am using optical surveys to study and search for intermediate mass black holes in active galactic nuclei. 
Education
B.S. Physics, Purdue University
Awards and Honors
Additional Campus Affiliations
External Links