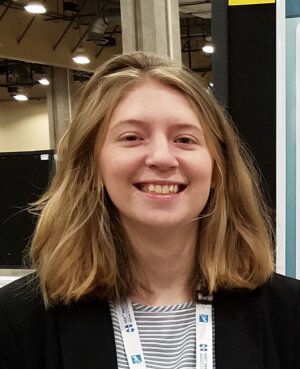 Contact Information
111 Astronomy
1002 W. Green St.
Urbana, IL
MC 221
Biography
Cassidy is a second-year Graduate Student in Astronomy at the University of Illinois at Urbana-Champaign. She received her Bachelor's degree in Astrophysics from the University of Oklahoma in 2018. As an undergraduate, Cassidy used machine learning techniques to analyze data from active galactic nuclei as well as worked on simulating pulsar radio signals.
Research Interests
Computational simulations
High-performance computing
Magnetohydrodynamics
Star formation
Research Description
Cassidy is working with Matt Turk on simulating the formation of Population III stars, the first stars in the universe. She is implementing magnetized turbulence on the subgrid-scale in GAMER, a GPU-accelerated adaptive mesh refinement code for astrophysics, to investigate how these physical processes may interfere with star formation. 
Education
University of Oklahoma - Bachelor of Science in Astrophysics (2018)
External Links