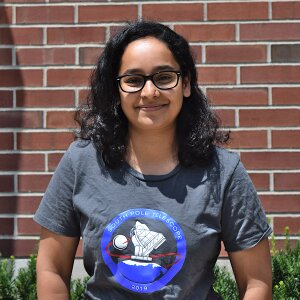 Contact Information
Department of Astronomy
220 Astronomy
1002 West Green St.
Urbana, IL
MC 221
Biography
I am a fourth year graduate student working with Prof. Joaquin Vieira.
Research Description
I am currently working with Prof. Vieira and the South Pole Telescope Submillimeter (SPT-SMG) collaboration on lensed dusty star forming galaxies (DSFGs) at high redshifts. 
More than half the energy budget of the universe comes from the Cosmic Infrared Background and DSFGs, with their enormous amount of dust and intense star formation, emit strongly in infrared. It is important to study these galaxies to understand not just the conditions in early universe but also its evolution.
We do this mainly through continuum and  spectral observations of important molecules like CO (to get gas mass),CI,CII, dense gas tracers like HCN and far infrared field tracers like H2O. I am currently working on bright H2O transition from three high redshift DSFGs to develop H2O as as star formation rate indicator.
Education
2015 - Present : PhD, University of Illinois, USA
2015 : BS/MS Physics, IISER Pune, India
Grants
INSPIRE scholarship (2010-2015), Department of Science and Technology, India
ALMA NRAO Student Observing Support