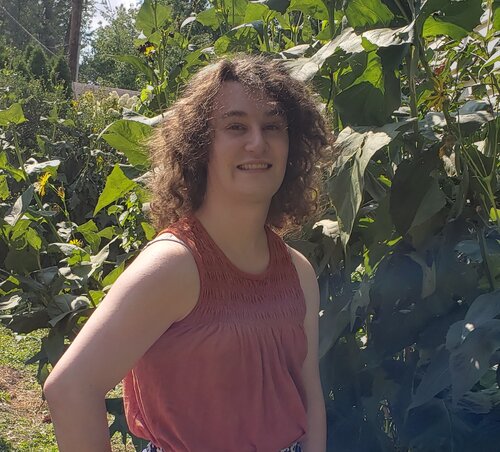 Contact Information
128 Astronomy
1002 W. Green Street
Urbana IL 61801
M/C 221
Research Areas
Biography
Amelia Mangian is a third-year graduate student in the Department of Astronomy.  She came to UIUC after completing a Bachelor of Arts in Physics from Lawrence University in 2018.  Amelia spent two summers conducting research in Astrophysics at Lawrence University and UCLA during her time in undergrad.  At Lawrence, she worked under Professor Megan Pickett simulating gas giant formation using a gravitational instability model.  At UCLA, she worked under Professor Andrea Ghez and the Galactic Center Group using Keck NIRC speckle imaging to constrain the orbits of stars in the nuclear star cluster.  Here at Illinois, she spent her first year working with Professor Joaquin Vieira studying high redshift dusty star-forming galaxies.  She currently works with Professor Yue Shen using the SDSS quasar catalog to perform a statistical analysis of the quasar population, primarily looking at blackhole-galaxy coevolution.
Research Interests
Galaxy Formation and Evolution
Observational Cosmology
Supermassive Black Holes
AGN
Education
Lawrence University -- Bachelor of Arts, Physics -- 2018
Awards and Honors
Lawrence University Physics Research Award -- 2018
Courses Taught
Fall 2018 - Introduction to Astrophysics (ASTR 210)
Spring 2019 - University Physics: Mechanics (PHYS 211)
Fall 2019 - The Big Bang, Blackholes, and the Fate of the Universe (ASTR 350)
Spring 2020 - Introduction to Astrophysics (ASTR 210)
Additional Campus Affiliations
I am extremely interested in Diversity, Equity, and Inclusion efforts in astronomy and related fields.  I have been an active member of the UIUC astronomy DEI group, and have been working to facilitate conversations between the faculty and students to implement new policies and promote and support underrepresented populations in our field.  I am particularly interested in gender inclusion and creating welcoming and supportive environments for queer people.  Accessibility for people with disabilities and neurodiversities is another focus of mine.  I strongly encourage reading the recommendations from the Inclusive Astronomy Conference (https://tiki.aas.org/tiki-index.php?page=Inclusive_Astronomy_The_Nashville_Recommendations), the recommendation for facilitating inclusivity conferences from the IA2 LOC (https://outerspace.stsci.edu/display/IA2/LOC+Recommendations?preview=/76153680/76153700/IA2%20LOC%20Recommendations.pdf), and the LGBT+ Inclusivity Physics and Astronomy Best Practice Guide (https://arxiv.org/pdf/1804.08406.pdf).  Other resources can be found through Astrobites articles (https://astrobites.org/), Astro2020 APC white papers, and through the AAS.  Please look into current events and learn how to make astronomy a better place for BIPOC astronomers!  Please reach out with questions or to discuss DEI efforts!