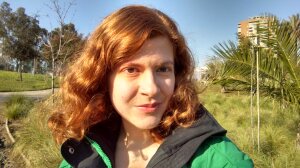 Contact Information
113 Astronomy
1002 W. Green St.
Urbana, IL 61801
M/C 221
Biography
I am a second-year graduate student working with Professor Leslie Looney on sources of polarization in early protostellar disks.
Research Interests
Dust polarization in protostellar disks
Magnetic fields around protostars
Radio interferometry
Research Description
I study sources of dust continuum polarization in protostellar disks. By using multi-wavelength observations and comparing the observed polarization morphologies to models produced by our theorist collaborators, I plan to probe the contributions of different mechanisms to the overall polarization. In particular, I am interested in isolating the contribution of grain alignment with the disk's magnetic field. Characterizing the magnetic field is essential to investigating how magnetic fields affect disk development.
Education
B.S., Physics, Brandeis University, 2015