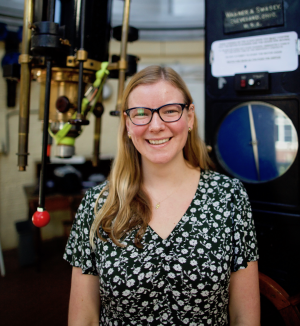 Contact Information
133 Astronomy
1002 W. Green Street
Urbana IL 61801
M/C 221
Biography
Melanie is a second-year astronomy Graduate Student in Prof. Joaquin Vieira's research group. She obtained her Bachelor's degree with majors in Astrophysics, Physics, and German from the University of California, Berkeley in 2017. Between undergraduate and graduate school, she interned at ABB in Baden, Switzerland in an experimental high-voltage lab working on gas circuit breakers. Outside of university, she is a member of the leader team for the International Astronomical Youth Camp (IAYC), a non-profit organization based in Germany.
Last updated September 2019
Research Description
Under the supervision of Prof. Joaquin Vieira, she joined the South Pole Telescope (SPT) collaboration. SPT surveys the sub-mm sky primarily to study the cosmic microwave background, or relic light from the big bang. Her project is to create the catalogue of point sources (mostly extremely distant, dust-enshrouded galaxies) from the third generation of data (SPT-3G).
Education
University of California, Berkeley – Bachelor of Arts in Astrophysics, Physics, German (2017)
Awards and Honors
Courses Taught
Spring 2019 - ASTR 121, TA
Fall 2018 - ASTR 122, TA