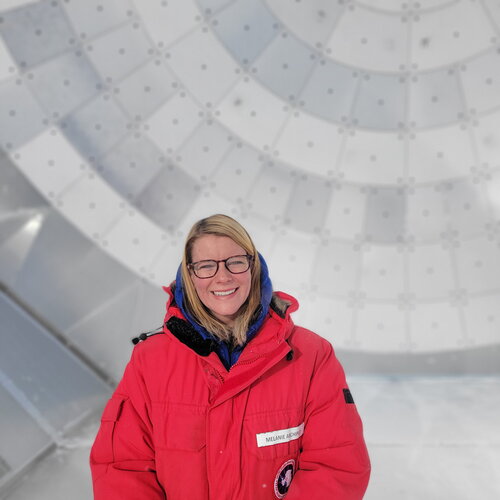 Contact Information
103 Astronomy
1002 W. Green Street
Urbana IL 61801
M/C 221
Biography
I am a fifth-year astronomy graduate student in Prof. Joaquin Vieira's research group where I work on data analysis for the South Pole Telescope (SPT) collaboration. Survey science is integral to my research, and I am a Center for AstroPhysical Surveys (CAPS) graduate fellow through Illinois' National Center for Supercomputing Applications (NCSA). I obtained my Bachelor's degree with majors in Astrophysics, Physics, and German from the University of California, Berkeley in 2017. Outside of university, I am a member of the leader team for the International Astronomical Youth Camp (IAYC), a non-profit organization based in Germany.
Last updated May 2023
Research Description
Under the supervision of Prof. Joaquin Vieira, I joined the South Pole Telescope (SPT) collaboration. The SPT surveys the sub-mm sky primarily to study the cosmic microwave background, or relic light from the big bang. My work includes finding and cataloging all the point sources (mostly extremely distant, dust-enshrouded galaxies) from the third generation of data (SPT-3G).
Education
University of California, Berkeley – Bachelor of Arts in Astrophysics, Physics, German (2017)
Courses Taught
Spring 2019 - ASTR 121, TA
Fall 2018 - ASTR 122, TA
Additional Campus Affiliations